Chit-Chat Chinese is a series of basic Mandarin Chinese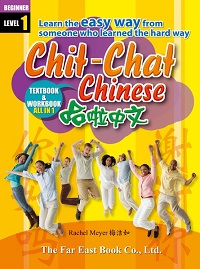 language courses. Each course is designed to be both a self-study guide as well as aclassroom textbook. The course contents draw heavily from language used in real-life situations, providing communicative and meaningful contexts. Many interesting and lively exercises are integrated into the textbook as well as various tests and quizzes allowing the user to evaluate progress. The accompanying audio CD allows users to master vocabulary and tones by imitating the pronunciation of a native speaker while simultaneously reading along in the textbook. The learner-centered, self-study course provides tips and strategies for learning Chinese more efficiently.
Click here to buy this book.